10% OFF ALL KITS TODAY & FREE GROUND SHIPPING! Shop Now
Amazing father's day gift!! This is the mango habanero, delicious and a blast to make! We really had a great time and will be ordering the other kits soon.

N Shanks
I'm addicted to making new sauces, comes with everything you need to start making some great sauces and experimenting.

A Merica
I bought this for my dad for Fathers' Day. It came quickly and it turned out great! Comes with everything you need and contains many ingredients. Very nice packaging as well!

Anna CarolMcminn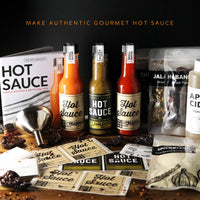 Quite possibly the perfect gift! Make Fresh Gourmet Quality Hot Sauce at home in about 10 minutes.
We designed the first and only complete hot sauce kit with chef quality ingredients, labels, stainless funnel, woozy bottles and a gourmet spice blend.
Make and bottle your first batch in less than 10 minutes.
Learn all about the proper peppers and simple trick to make and bottle fresh hot sauce.
Never has it been so easy to craft fresh hot sauce at home.
Experiment with peppers and ingredients, super simple recipes to get you started making fresh sauce.
Ready to give gift box.